Gua Sha Greatness: Client Interview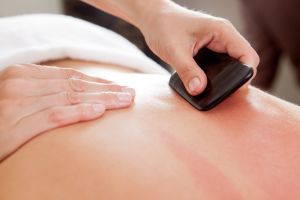 What is Gua Sha?
This therapy is a method used to remove stagnant blood and lymph from the subcutaneous fascia. It uses rounded smooth edged tool to repeatedly stroke over an area of the body, allowing the body to metabolize cellular waste and promote fresh blood and cells in that area. In other words, gua sha is an effective way to promote blood flow to areas that were previously getting less than the necessary amount of healing blood and oxygen. This treatment is very effective at relieving pain.
What does our interviewee have to say about her Gua Sha experience?
Why did your therapist suggest an additional treatment for you ailments? Was the therapy in addition to another treatment?
Michelle suggested Gua Sha because I carry a lot of stress in my shoulders, neck, and upper back. She had been working on those muscles for 45 minutes, before the Gua Sha, with deep tissue massage. She knew that the Gua Sha would help relieve those muscles even more and start to draw the toxins out of my body.
What was your impression of Gua Sha before receiving treatment, and how did your view of the therapy change once it was complete? 
I was hesitant at first. I had never heard of it before and I really wasn't sure if it would make any difference in the tight muscles and pain I was having. Immediately after she finished with Gua Sha, I knew it had made a difference. I felt instant relief.
Did Gua Sha help with your pain, inflammation, or other chronic ailments? 
Yes, it made a huge difference on the stress and pain that I was carrying in my neck, shoulders, and upper back. The pain and inflammation were instantly gone. It took several days before I began to feel any discomfort return after the treatment, which is very unusual for me. After a normal massage, I tighten back up within a day or two.
Would you return to The Spa'ah specifically for our Gua Sha services? 
Yes! I scheduled a second appointment before I left The Spa'ah that evening.
Would you recommend this therapy to a friend of family member? Please explain why. 
Absolutely. I have been raving about Gua Sha since Michelle used it on me. I suffer with chronic upper back pain and stress carrying, and I know many other people do, as well. This treatment is something that everyone should have to help with those symptoms. The instant relief was incredible and I could not be more thankful for how it continued to work for several days after treatment. I am very thankful that Michelle recommended this treatment to me!
You can find out more about our different services including gua sha, here!
May you have peace, happiness, and wellness!
https://thespaah.com/wp-content/uploads/2017/10/dreamstime_l_22667533.jpg
200
300
SpaAdmin
https://thespaah.com/wp-content/uploads/2021/11/Spa_logo_2021__2_-removebg-preview-1.png
SpaAdmin
2017-10-18 20:36:47
2017-10-18 20:36:47
Gua Sha Greatness: Client Interview